Adding sustainability to the fruit and vegetable processing industry through solar-powered algal wastewater treatment
The LIFE ALGAECAN project (LIFE16 ENV/ES/000180) will promote the fulfilment of important directives and EU priorities, such as the Water Framework Directive 2000/60/EC, the Directive 1999/31/EC on the landfill of waste, Directive 2008/1/EC on the integrated prevention and pollution control (IPPC) and Directive 2009/28/EC on the promotion of the use of renewable energies in the European Union.
Europe is the world's second largest producer of fruit and vegetables; this fruit and vegetables processing (FVP) industry is one of the largest industrial sectors in Europe in terms of production, growth, consumption, and export. The LIFE ALGAECAN project proposes a sustainable treatment model of high loaded and salty effluents that combines cost-effective heterotrophic algae cultivation with spray drying of the collected microalgae to obtain a product of commercial interest as raw material for the production of biofertilisers, animal feed, bioplastic, etc.
The technology to be applied in the project is an innovative concept for wastewater treatment, reuse and resource recovery to obtain a high quality water stream and reusable. The treatment proposed for high loaded and salty effluents is simple, from a technological point of view, with low costs associated to the treatment (both process and energy) and it would be carried out in-situ. The prototype will be powered by renewable energies (solar energy supported by biomass), which will minimise the carbon footprint and operating costs of the process. The final effluent quality will be very high, allowing reuse for equipment cleaning and irrigation purposes.
During the project execution specific stakeholders from target sectors (FVPI, animal feed and fertiliser industries, policy-makers, etc.) will be engaged to ensure the fulfilment of the abovementioned objectives.
Reduction of a 100% the environmental impact associated with the generation of waste
Creation of a project dissemination network of more than 2,000 entities / people
80% reduction in treatment costs in the fruit and vegetables industry
Dissemination of the results to more than 50,000 people from all sectors
Obtaining a final effluent of high quality, 100% free of pathogens and xenobiotic compounds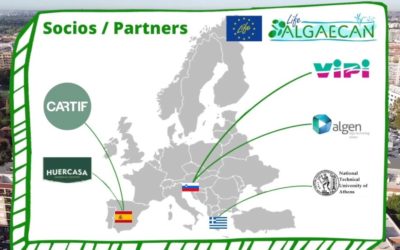 The promotional video of the project is now available both on our YouTube channel and in the multimedia section of the project website. https://www.youtube.com/watch?v=TnC6IugNY4I This video shows the wastewater treatment technology for fruit and vegetable processing...
read more